Prehospital Trauma Life Support (PHTLS)
Prehospital Trauma Life Support (PHTLS) is recognized around the world as the leading Continuing Education program for prehospital emergency trauma care, per the National Association of Emergency Medical Technicians (NAEMT). The course was created in response to the genuine need for additional training in the handling of trauma patients in EMS education.
Course instruction is based on the latest standards in prehospital trauma care using lectures and dynamic hands-on skill sessions such as rapid extrication, pediatric immobilization and more. It is designed to enhance the knowledge and skill of first responders, EMTs, paramedics, physicians, nurses, and other licensed health care professionals.
Upon successful completion of the course, you can earn 16 hours of CEUs of instructor-led credit for nurses, paramedics, and EMTs and a PHTLS provider certification valid for 4 years.
Prerequisites
The course is designed for prehospital and emergency medical providers at all levels. The course is challenging and will have "live scenarios" that students will be required to participate in. We require hard-toed shoes with uniform type pants.
Required Materials
You must complete and bring the PHTLS Pre-test on the first day of class. The PHTLS Eighth Edition textbook for the course must be purchased before the start of the course in order to complete the required readings due by the first day of class.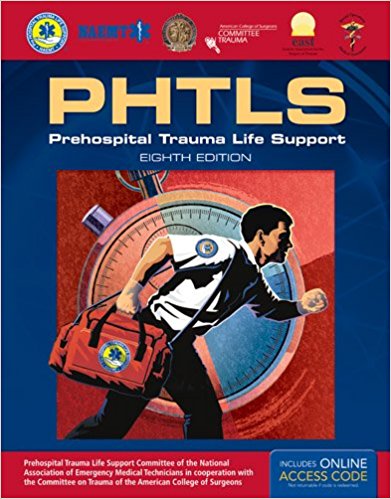 You can buy the textbook from Jones & Bartlett Learning or Amazon. We do not have textbooks available on-site for purchase.
Notes
Late arrivals may not be able to gain access into the building or take the class so please plan accordingly. No refunds or transfers will be provided for late arrivals.
After registering and paying for the course here on our site, please visit www.naemt.org and complete the registration form for your course date.  (Note: At NAEMT's site, the course location will be listed as "OCEMT")  This will help us expedite processing of your certificate at course completion.
Enroll Now!